Here is a collection of miscellaneous famous walking horses that you can find on your pedigrees. We will add to this page as we collect more photos and information. Please submit your favorites to Walkers West and we will give you photo/information credits and a link back to your page.
MORE FAMOUS WALKING HORSES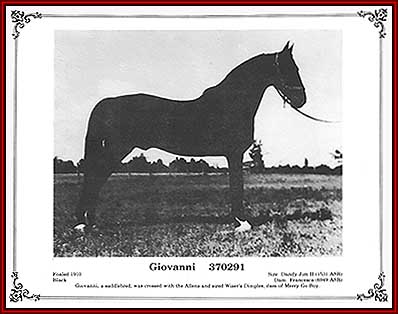 A study of the Tennessee State Fair winners of the early 1900's reveals the influence of GIOVANNI family which represented the last significant outcross of blood into the Tennessee Walking Horse. This one-eyed, black Kentucky Saddle Horse stallion by Dandy Jim II (1531 ASR), by Macdonald Chief was brought to Tennessee by Henry Davis in 1914. He was described as a fine black, about 15.3 hands, who sired some of the best looking and most durable Walking horses ever seen at that time. He lived to be 38 years old, and died in 1940. His most significant contribution to the Tennessee Walking Horse breed was to sire Wiser's Dimples, the dam of Merry Go Boy.
.
Pearle, dam of White Merry Boy Jr., Merry Maker, Reynold's Pride, Lee White Allen and Merry Boy's Fancy.
.

EBONY SILVER

Sun's Shadow B.


John A's Chance
Photo Courtesy of Tommy Wilson


MERRY ROSE,
dam of three time World Grand Champion,
TALK OF THE TOWN.

ALLEN'S BLACK MAGIC

BARKER'S MERRY BOY

ARISTOCRATIC ALLEN

ALICE CARVER

Another old timer, Curlee's Spotted Allen

WHITE LIGHTNING
was the official flag horse at the Celebration for many, many years. Dewey Arnold was the flag bearer.


Sun's Glory O.
Top show mare in 1953

Slippery Allen,
Albert Dement stallion, 1931

Moore's Dick Taylor,
sire of Shruptrine's Dick Taylor F- 81.

Sam Allen, (Roan Allen F-38 x Ella II)
one of the T. Paul Elrod horses
from Murfreesboro, TN.

BLUE NAMRON, 3/4 brother to Merry Go Boy, taken 1949.

Hendrixson Bonnie
---
---

Hall Allen and his owner, Tom Reynolds =>.


Sundust
Taken in 1959 by Judy Crunk of Green Valley Farms.
she says...

"Sundust was put into training as a 2 year old but due to an injury, was put out to stud. He sired many show horses and his broodmares were prized. I took the photo of Sundust when I went to Mt. Pleasant, TN, to buy a stallion by him from the owner, E. A. Sisco. I bought a black stallion by the name of Evening Sun S. (sire of Ebony's Evening Sun's dam.) WGC. Go Boy's Sundust also had a Sundust dam. Sundust was a great breeder of show stock in his time. Everybody had a Sundust show horse, much like Pride's Generator today. "

Katie Mearl

Keene's Go Boy

Happy Days K.

Diamond Lil

Brown Allen, by Hunter's Allen F-10, carried the racing blood of Tom Hal F-20 through Brown Hal, into the present day Tennessee Walking Horses. He was recognized as one of the most outstanding show horses of the 1930s.


Midnight Secret

Noble Knight

Noon's Midnight Caller

Norris Moonbeam

Old Glory, Jr.

Old Glory's Shepherd

MERRY MAKER
410944
Roan stallion with flaxen mane and tail..
great sire from Merry Boy breeding



Old Glory was a fine show horse
as well as the sire of Old Glory's Big Man.


Prince Allen

Princess Allen

Piddley

ELROD CHOICE

Roan Allen Jr.

Shepherd of the Hills

Stately Go Boy

Sun's Allendorf

Traveller

The Prime Minister


Trouble # 370396
Noted son of Last Chance, out of Nellie Essay. Trouble was a World Champion Stallion, and carried the Hunter's Allen blood into the Celebration show ring, as the grandsire of 1960 World Grand Champion, Mack K's Handshaker.


MOONGLOW, JR.
3 times World Grand Champion
Amateur horse,
1966, 1968, 1969
---
MORE FAMOUS WALKING HORSES


MAIN - EMAIL WALKERS WEST - STALLIONS - SALE HORSES - TACK - CYBER-BARN TOUR
OFFICE - COLT COLLEGE - BREEDING CONTRACT -
CLIENT COMMENTS - CONTACT
THE ANCESTOR GALLERY -
Tennessee Walking Horse National Museum - Pj Wamble Gallery
TWHBEA COLOR CODES -COLOR CHART - LEGENDS - FOUNDATION BOOK - BREED HISTORY - WORLD CHAMPIONS
GHOST HORSES
- LINKS - BANNERS - RINGS - GUEST BOOK - PHOTO ALBUM
GLOBAL TIME CLOCKS - THE LIBRARY -
PUZZLES - 2017 WALKERS WEST CALENDAR

Walkers West
3236 FM 2578
Kaufman, TX. 75142
Cell (214) 507-6032
Email: walkersw@earthlink.net


We can ship overseas.


<==

Click here for Currency Exchange Rates
COPYRIGHT NOTICE

Hosted on