1917 - 1939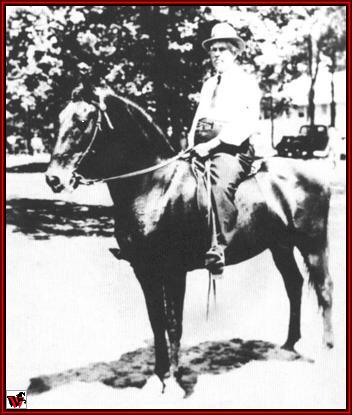 If you wish to print off this pedigree, click HERE to load a black and white copy.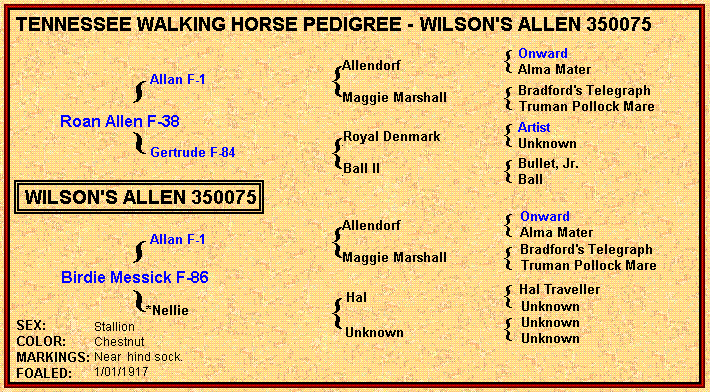 WILSON'S ALLEN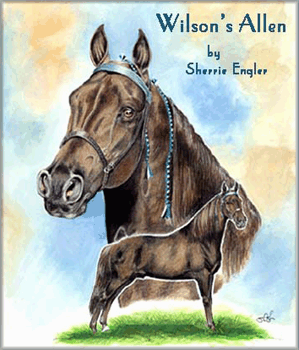 If a list were to be made of the greatest Tennessee Walking Horses of all time, WILSON'S ALLEN would find that his son, Midnight Sun was his only rival for the top spot. Wilson's Allen's blood dominated the male line of the breed for 40 years after his death. He sired 482 registered foals.

Sired by Roan Allen F-38, out of the foundation mare, Birdie Messick F-86, Wilson's Allen was a double grandson of the first Tennessee Walking horse ever registered, Allan F-1. Through the dam of Roan Allen, Gertrude F-84, he inherited some of the foundation American Saddlebred genes of Royal Denmark, and the Morgan blood of Bullet, Jr. Through his own dam, Birdie Messick, came the blood of the Hals. When mixed in with the Narragansett Pacer, the Canadian Pacer, and the best Standardbred blood of the times, the resulting gene pool was our own Tennessee Walking horse breed.
| | |
| --- | --- |
| Wilson's Allen was foaled on Bud Messick's farm in Coffee County, Tennessee in 1914. There was considerable talk among breeders when Roan Allen F-38 was mated to his own half-sister, Birdie Messick F-86, to produce Wilson's Allen 350075. It is said to have been the first act of "inbreeding" done on purpose. A neighbor, Johnson Hill arranged to have Bud's mare, Birdie, bred to Roan Allen F-38 from the farm of Jim Brantley. The hope was that the union would produce a stud colt, which Mr. Hill contracted to buy for $200. The resulting chestnut foal was Wilson's Allen. | |
At five months old, Wilson's Allen was moved to the Hill farm and left to grow, which he did to an extraordinary degree. He was soon ready for saddle, a duty which fell to the nephew of Johnson Hill, a lad named Steve Hill. In Steve's words, "The horse was small and so was I, so my uncle thought we would match up pretty good." Little did that uncle know what a winning combination he had produced, as his nephew later became one of the premier trainers in the breed.

The "Johnson Hill Horse" as Wilson's Allen was called at the time was an exceptional colt, both in his gaits and his disposition. Steve remembers him as a colt that "could really walk, he'd walk and shake his head and slobber, and he could come up and go yonder."

There was little in the horse's early life to indicate the prominent role he would eventually play in the history of the breed, but when he died in 1939, he had assured a place of distinction for the Tennessee Walking horse among the great breeds of the world. Wilson's Allen was buried three times. He was buried first in Beech Grove at the Steve Hill Stables.. Then he was dug up in 1975 and buried at the campus of MTSU, with a funeral and a big crowd. He was later dug up again, and moved to his final resting place near the Horse Sciences building.

Among his get were many famous horses besides the immortal Midnight Sun. In fact, the first time that Midnight Sun was shown at the National Celebration, he was beaten by a horse called Wilson's Ace. Through the blood of Midnight Sun, Wilson's Allen remained the dominant force in producing Walking horse for many years to come. Considering that Wilson's Allen was dead before the first Celebration was held, his record of winners is almost unbelievable. Some of his most famous offspring were as follows.

Melody Maid - winner of 1942 World Grand Championship.
Strolling Jim - winner of the first W.G.Ch. in 1939.
Hayne's Peacock - winner of both 1940 and 1941 W.G.Ch.
Strolling Mary, The G-Man, Mountain Man, Wilson's Ace, Nellie Gray, Hill's Wilson, Frank Wilson, Wilson's Allen's Dream Girl, Wilson's Allen's Dictator, Top Wilson, Society Man.
City Girl - winner of 1944 W.G.CH.
Merry Wilson
Midnight Sun - winner of 1945 and 1946 W.G.Ch.
Star Parader
Greater Glory

There were dozens of other Wilson's Allen offspring that won consistently in shows throughout the country, and many were only beaten by other Wilson's Allen offspring. Equally impressive was the number of his offspring that became significant sires of the breed. Among the most prominent were:

Midnight Sun; Sir Maugray; Miller's Wilson Allen; King's Wilson's Allen; Gold Bond; Wilson's Allen's Boss Man; Wilson's Allen's Order, Hi-Boy; Wilson Allen Again, Hill's Wilson's Allen; Strolling Wilson; Wilson's Allen's Echo; Roy Wilson; King of Haven; Top Wilson; Limestone Wilson; Red Warrior; Wilson Allen's Repeat; Wilson's Allen II; Fisher's Wilson's Allen; Wilson's Ace; Wilson's Flight Allen; Wilson's Allen Winchester; Governor Wilson; Victor Allen; Wartrace; King of The Alamo; Wilson's Allen's Sunset Gold; Slippery Allen; Wilson's Allen Jr.; Billy Wilson; Wilson's Allen's Dictator; Wilson Dean; Wilson's Allen's Replica; Fulton's Wilson's Allen; and the Last Wilson's Allen.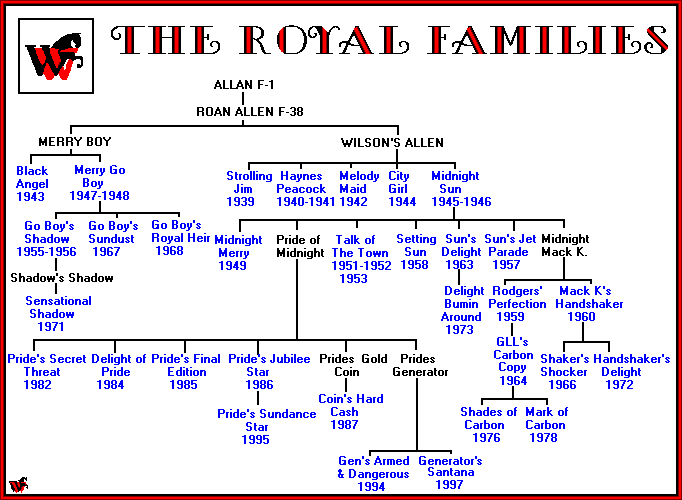 What a sad loss to the breed were the great horses that were gelded before their greatness was recognized. Consider what horses such as Strolling Jim (1939 WGCh.), The G-Man, Haynes Peacock (1940 and 1941 WGCh.) and Pride of Memphis might have contributed to the breed, had they been left entire. We cannot help but be amazed at the potency of Wilson's Allen. He, more than any other horse, carried on the torch left by Allan F-1 and Roan Allen F-38.

He brought stamina and dignity to the breed, and his 482 colts exhibited a looseness that was not noticeable in the get of other sires. Since his son, Strolling Jim won the first World Grand Championship in 1939, only 3 World Grand Champions (Black Angel, Merry Go Boy, and Go Boy's Shadow) do not trace directly to this incomparable sire.

Thank you, Bud Messick and Johnson Hill, for your wonderful gift of this stallion, Wilson's Allen.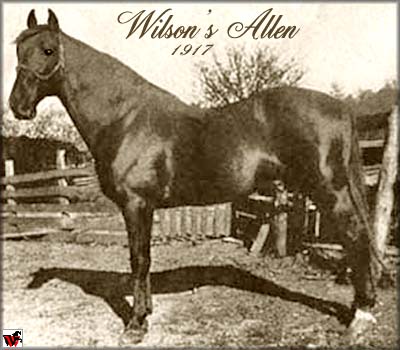 **Please note: All photos that are not specifically accredited otherwise, are courtesy of Dr. Bob Womack, author of "Echo of Hoofbeats." If you have a story or photos of Wilson's Allen that you would like added to this page, please forward them to Walkers West.