1974 - 2003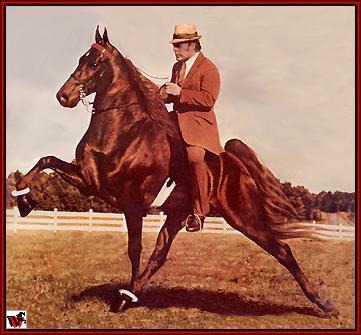 A product of the legendary Harlinsdale Farms breeding program, Prides Gold Coin was sired by Pride of Midnight, out of the great broodmare, Delight's Joanna, who was the top producing broodmare of the famed Harlinsdale Farm. She also produced noted show horse and leading sire WC Pride's Genius.

From 1975 to 1983, Prides Gold Coin was owned first by Dr. William Wellborn and C. A. Bobo and later, exclusively by Dr. Wellborn. In 1983, he became the property of the Ragan family's RRR Farms.
| | |
| --- | --- |
| Following a stellar show career in which he and Bill Bobo won the 1976 Two-Year-Old World Grand Championship, the 1977 Three-Year-Old World Grand Championship, and the 1978 Four-Year-Old World Championship, and Four-Year-Old World Grand Championship, Prides Gold Coin went on to become one of the most influential breeding stallions of his time. | |
Standing at Harlinsdale Farms, he sired such greats as 1987 World Grand Champion, Coin's Hard Cash. All told, the progeny of Prides Gold Coin competing in nearly every division, won a total of 76 World Championships, and 19 World Grand Championships. He sired 803 foals according to TWHBEA records. His influence will be felt for many years to come.
Prides Gold Coin died May 2, 2003 at the age of twenty-nine.
PRIDE'S GOLD COIN PROGENY PAGES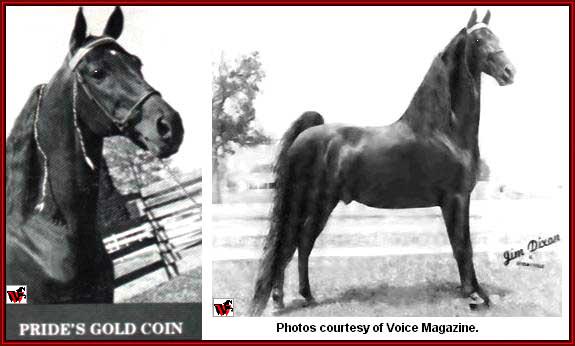 PRODUCTION RECORDS FOR PRIDES GOLD COIN

If you wish to print off this pedigree, click HERE to load a black and white copy.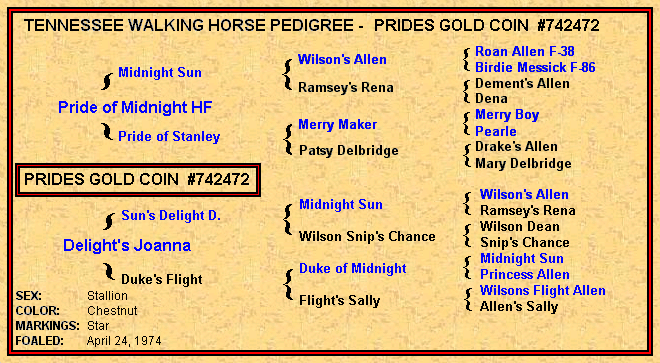 If you have a story or photos of Pride's Gold Coin
that you would like added to this page,
please forward them to Walkers West.
BACK TO LEGENDS


MAIN - EMAIL WALKERS WEST - STALLIONS - SALE HORSES - TACK - CYBER-BARN TOUR
OFFICE - COLT COLLEGE - BREEDING CONTRACT -
CLIENT COMMENTS - CONTACT
THE ANCESTOR GALLERY -
Tennessee Walking Horse National Museum - Pj Wamble Gallery
TWHBEA COLOR CODES -COLOR CHART - LEGENDS - FOUNDATION BOOK - BREED HISTORY - WORLD CHAMPIONS
GHOST HORSES
- LINKS - BANNERS - RINGS - GUEST BOOK - PHOTO ALBUM
GLOBAL TIME CLOCKS - THE LIBRARY -
PUZZLES - 2017 WALKERS WEST CALENDAR

Walkers West
3236 FM 2578
Kaufman, TX. 75142
Cell (214) 507-6032
Email: walkersw@earthlink.net


We can ship overseas.


<==

Click here for Currency Exchange Rates
COPYRIGHT NOTICE

Hosted on