World Champion Mare in 1944, 1945, 1946, 1947 and 1948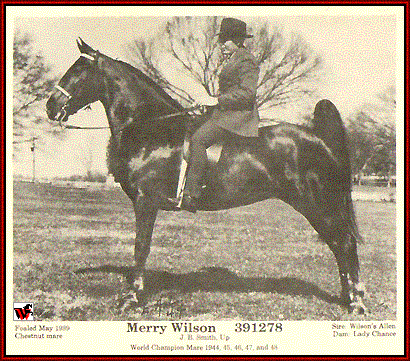 The parade of excellent offspring from WILSON'S ALLEN seems inexhaustible. Such champions as MELODY MAID, CITY GIRL, WILSON'S ACE, STAR PARADER and a host of others followed in the paths of PRIDE OF MEMPHIS, THE G-MAN, STROLLING JIM and HAYNES PEACOCK. Two time World Grand Champion, and the greatest Walking Horse breeding sire of all time, MIDNIGHT SUN, was sired by WILSON'S ALLEN. Both MELODY MAID and CITY GIRL won the World Grand Championship, but no doubt the greatest show mare ever sired by WILSON'S ALLEN was MERRY WILSON.
MERRY WILSON was the last great show animal bred by Albert Dement of Wartrace, Tennessee, and certainly no better specimen can be found to illustrate the final result of the experimental breeding program this man initiated.
MERRY WILSON was foaled in May of 1939. Sired by WILSON'S ALLEN, she was from a mare named LADY CHANCE by LAST CHANCE. The dam of LADY CHANCE should prove especially interesting to Walking Horse breeders. LADY CHANCE was from the previously mentioned mare, NELL DON, which was in turn out of NELL DEMENT, the same mare that foaled MERRY LEGS. The interesting aspect of the situation is that the solid white NELL DON was sired by MERRY BOY who was actually NELL DEMENT'S grandson.
Charles and Polly Hawkins, then living in Woodbury, Tennessee, saw MERRY WILSON at Dement's barn and bought one-half interest in her when she was only a few weeks old. The sale price was $300. The Hawkins were just entering the horse business and, more than anything, wanted some of the foundation blood developed by Dement. When the filly was six months old she was weaned and brought to the Hawkins farm. It was at this time she received the name MERRY WILSON. Charles remembered,

"As a yearling, she was as loose a colt as I have ever seen. She could stride an unbelievable length. Her shoulders worked and that back-end came right up under there just liked it's supposed to do. At no time in her life was she short on stride. When she walked around the pasture she would just fall apart. She was as fine as she could be, had a beautiful coat of hair."
The Hawkins kept the young mare at their place and broke her as a two year-old but never entered her in competition. Archie Macon, son of the famous "Uncle Dave" of Grand Ole Opry fame, worked on the mare's feet to get her ready for serious training. As a three year-old MERRY was shown by Hawkins at the Murfreesboro, Tennessee, show. She placed fourth behind an array of fine fillies that, by contrast, pointed up some of MERRY' S basic weaknesses. The mare was then sent to Billy Grubbs at Haynes Haven Farm, but contracted pneumonia and was returned home. When well again MERRY was sent to Floyd Carothers at Wartrace for further training. Carothers showed MERRY at Franklin, Tennessee, but again, she was not impressive. The next outing proved to be a different story. Against an outstanding class of three-year-old mares at the PTA show in Shelbyville, Tennessee, she topped the field, and caught the eye of all who saw her. Just at this time Carothers left Wartrace to train at the Rambo Stables in Fayetteville, Tennessee, and the mare came home to Woodbury.
| | |
| --- | --- |
| | Eventually MERRY WILSON was sent to Steve Hill at Beech Grove, Tennessee. One of the choice tales that makes the rounds in Walking Horse lore is that when MERRY came to Hill's barn she was recognized as a very ill-tempered hussy, an observation that was no doubt true. At some point it had been decided that a Billy goat as a stable-mate would calm her nerves, and when MERRY arrived at Hill's barn, the goat came too. Mac Tenpenny was working with Hill at the time, and it is reported that he suggested an approach which he believed would positively calm the mare's nerves. Given the "go ahead" to pursue his theory, Tenpenny reportedly "beat the devil" out of the mare and barbecued the goat. |
After Steve Hill had worked MERRY for a few weeks he took her to Fayetteville, Tennessee, where he placed second in the mare class to CITY GIRL. It was a very unpopular decision as far as the spectators were concerned, and although MERRY was denied the blue she became the new idol of the breed. The morning following the Fayetteville show Floyd Carothers phoned Hawkins and bought MERRY WILSON for Frank Rambo for $3500. She was sold in a short time to Dr. and Mrs. J. W. Werner of Jonesboro, Arkansas. Carothers was unable to train MERRY because of his failing health, and the mare was sent to J. B. Smith then riding Walking Horses at the Pointer Stables in Como, Mississippi. Smith showed the mare throughout the season of 1944, and under his management she won throughout the show circuit.
MERRY' S best chance for winning the Championship had been in 1944, but the old mare blew it. She had established her quality by winning the mare class and was an odds-on favorite to win the Stake. Unfortunately she chose the night of the Stake to pull one of her contrary spells and had to be taken from the ring.
In 1945 MERRY won the Championships at Memphis, Tennessee; Birmingham, Alabama; Atlanta, Georgia; and Columbia, Tennessee. She also won, for the second year in a row, the Mare Class at the Celebration. In the Championship Stake of that year she placed behind MIDNIGHT SUN and COTTON PICKIN MAC.

In 1946, under the management of Steve Hill, MERRY won Stakes at Sparta, Columbia, and Woodbury, all in Tennessee. Again she took the Mare Class at the Celebration, and placed behind MIDNIGHT SUN and MERRY GO BOY in the Grand Championship Stake. She defeated BLACK ANGEL in the $1000 Mare Class in Chicago later that fall but due to an oversight was not entered in the Big Stake.

MERRY WILSON continued her winning way for the Werners, and it is estimated she won over eighty blue ribbons while their property. Just before the Celebration of 1947, the mare was sold to Bob Cunningham of Zelienople, Pennsylvania, for $25,000. She continued to dominate all mare classes, and won that class at the Celebration for the fourth consecutive time. In the Grand Championship Stake at the 1947 Celebration she tied second behind MERRY GO BOY, beating out MIDNIGHT SUN who placed third.

The year of 1948 would be MERRY' S last shot at the Grand Championship. In preliminary classes she won the mare title for the fifth time, a record unequalled by any other mare in Celebration history. When she entered the ring in the stake class it was obvious she was not right, and the light-stepping MERRY GO BOY left her in his dust. She was again rewarded the Reserve Championship title.
As has been noted, MERRY WILSON was a product of A. M. Dement's program in experimental breeding, and offers an excellent example of the line-breeding that has gone into the modern Walking Horse.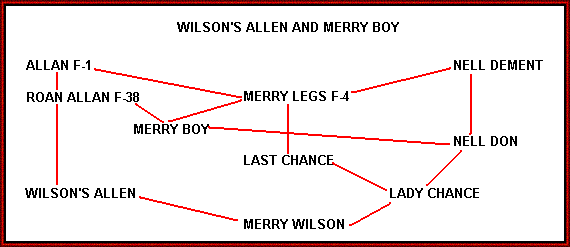 MERRY WILSON is remembered by those who saw her as having the best flat walk in the history of the breed. She did not have speed in the running walk, but her movements were precise and perfectly coordinated. Ed Ezell of Chapel Hill, Tennessee, continued to show the mare after 1949, and she continued to exhibit the characteristics that had made her famous. She would prove to be the last contender for the Grand Championship sired by the great WILSON'S ALLEN.
MERRY WILSON Show Record
1944

1st

Aged Mares
1945
1st
Aged Mares
3rd
Championship Stake
1946
1st
Aged Mares
3rd
Championship Stake
1947
1st
Aged Mares
2nd
Championship Stake
1948
1st
Aged Mares
2nd
Championship Stake
1949
4th
Aged Mares
1951
1st
Owner's Amateur Class
If you wish to print off this pedigree, click HERE to load a black and white copy.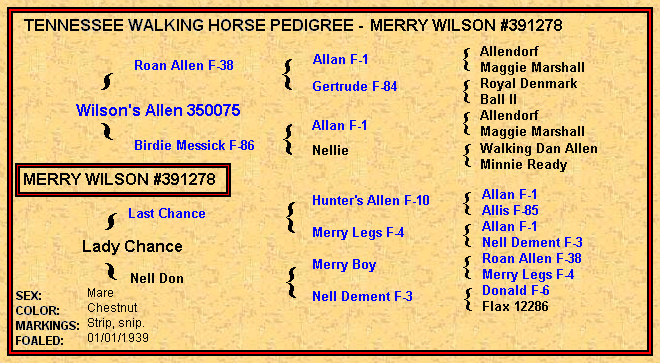 If you have a story or photos of Merry Wilson that you would like added to this page,
please forward them to Walkers West.

MAIN - EMAIL WALKERS WEST - STALLIONS - SALE HORSES - TACK - CYBER-BARN TOUR
OFFICE - COLT COLLEGE - BREEDING CONTRACT -
CLIENT COMMENTS - CONTACT
THE ANCESTOR GALLERY -
Tennessee Walking Horse National Museum - Pj Wamble Gallery
TWHBEA COLOR CODES -COLOR CHART - LEGENDS - FOUNDATION BOOK - BREED HISTORY - WORLD CHAMPIONS
GHOST HORSES
- LINKS - BANNERS - RINGS - GUEST BOOK - PHOTO ALBUM
GLOBAL TIME CLOCKS - THE LIBRARY -
PUZZLES - 2017 WALKERS WEST CALENDAR

Walkers West
3236 FM 2578
Kaufman, TX. 75142
Cell (214) 507-6032
Email: walkersw@earthlink.net


We can ship overseas.


<==

Click here for Currency Exchange Rates
COPYRIGHT NOTICE

Hosted on