1886 - 1910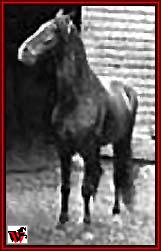 ALLAN F-1 (Black Allen)
Although the first horse on record to do the running walk was a piebald called Bald Stockings, by Tom Hal and out of a Copperbottom mare in 1837, - the first horse to be registered as a Tennessee Walking horse was a registered American Trotting Horse named Black Allen, No. 7623 in the American Trotting Registry, and listed in the Tennessee Walking Horse Registry as Allan F-1. His sire was a stallion called Allendorf, from the Hambletonian family of trotters, but his dam was a Morgan, from Blackhawk breeding. In 1885, the cross between Allendorf and Maggie Marshall, a Morgan mare, by Bradford's Telegraph, resulted in a black colt with a white blaze, off hind coronet and rear hind sock. The little black stallion Allan was born in 1886 in Lexington, Kentucky.

If you wish to print off this pedigree, click HERE to load a black and white copy

All his life, Allan was the horse nobody wanted. His many owners preferred race horses and were disappointed when Allan preferred to pace. Allan was considered a complete failure as a harness racer. He was described as a "quitter," because he was so loose-gaited that he would knock his legs to pieces before he could finish a race. He wasn't thought much better as a breeding stallion, and he frequently passed from owner to owner. However, some writers later described him as an excellent flat-footed walker. Because of his strange gaits Allan was not successful in the trotter's breed, nor in the Morgan breed. It was 1903 when breeders first realized the quality of that funny-looking little stallion: his natural way of walking with those quick, gliding steps. He was able to do that walk over miles and miles and the ride was not tiresome.
In the latter half of the Nineteenth Century, dirt track racing became less popular, and was replaced by show ring competition. When religious opposition ended dirt track racing in the Southern states, horsemen began to exhibit their horses in the arena, and classes were held for "Plantation Saddle Horses." Accepted gaits included the fox trot, running walk, stepping pace and rack.
| | |
| --- | --- |
| | For years, Mr. James R. Brantley dreamed of developing a new breed of horse, an easy-to-ride saddle and harness horse that could serve as the utilitarian horse of his era. In 1903, he purchased the older stallion named Allan. Allan carried in him bloodlines of some of the greatest horses of his day, and Mr. Brantley became convinced that through this horse, he could achieve his dream. |
| | |
| --- | --- |
| At the Brantley farm in the Noah community of Coffee County, Allan blossomed. Under Mr. Brantley's loving care and attention, Allan developed speed and style and, more importantly, a distinctive running walk. His new owner bred him to his great walking gaited mare, Gertrude, and the rest, as they say, is history. Gertrude was a tremendous big red roan mare, with a blaze face and four white stockings. She was mostly Saddlebred on her sire's side, while her dam was Morgan and Canadian Pacer, and when bred to Allan, they produced Roan Allen F-38, perhaps the most famous Tennessee Walking Horse of them all. | |
Roan Allen was known to flat walk, running walk, square trot, fox trot, pace and rack. His sire, Allan, was later bred to the Dement mare, Nell, and produced the legendary mare, Merry Legs. Another Allan son was Hunter Allen F-10, sire of Last Chance. Roan Allen and Merry Legs went on to produce many registered Tennessee Walking Horses. Midnight Sun was the horse who originated the "Big Lick" style of running walk, so desired in the show ring, today.

In six short years, Allan sired an overwhelming number of horses who inherited the distinctive walk. Thanks to the patience and devotion of Mr. Brantley and others, these horses developed into a new breed that we know today as the Tennessee Walking Horse.
In 1935, the newly-formed Tennessee Walking Horse Breeders Association of America registry founders decided to take Allan, now Allan F-1, as the first foundation stallion. He was latter to be chosen by the Tennessee Walking Horse Breeders' Association as the foundation sire of the Tennessee Walking Horse. Allan, the small black stallion with a blazed face, bred from the finest Morgan, Thoroughbred and Saddlebred stock, was chosen as the number one foundation sire and designated Allen F-1. Allan had both exhibited and passed to his offspring a gentle temperament and the smooth running walk gait. He was given the title Allan F-1 to denote his being the first horse listed in the Tennessee Walking Horse stud book.
By 1945, there was a total of 11,800 entries in the stud books of the TWHBEA and more than 10,000 of them traced to Allan F-1, - - 2,785 bearing his name. This is one of the greatest records that has ever been made by any of the great sires of light horse breeds.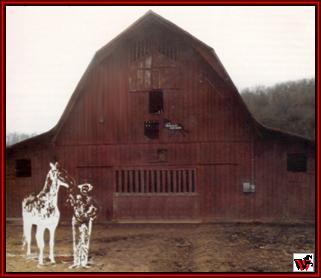 James R. Brantley had realized his dream. Mr. Brantley did not live to see the huge commercial success the Tennessee Walking Horse was to become. He died in 1945. His beloved Allan died in the fall of 1910 at the farm of Albert Dement, after having been fed green sorghum. The entry in Allan's stud book reads:
"September 16, 1910. ALLAN died. Served 111 mares and is said to be twenty-nine years old and he did not have a missing tooth. He was the gamest horse I ever saw." - - Jack Grider.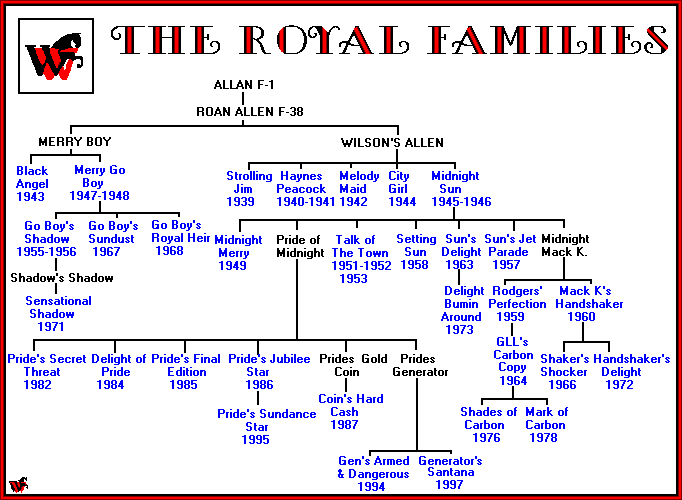 Today, the Tennessee Walking Horse brings to Tennessee each year not only millions of dollars in revenue but also the admiration of the millions of people around the world who are inspired by the gentle horses with the beautiful walk.
Thank you, Mr. Brantley.
**Please note: All photos that are not specifically accredited otherwise, are courtesy of Dr. Bob Womack, author of "Echo of Hoofbeats." If you have a story or photos of Allan F-1 that you would like added to this page, please forward them to Walkers West.


MAIN - EMAIL WALKERS WEST - STALLIONS - SALE HORSES - TACK - CYBER-BARN TOUR
OFFICE - COLT COLLEGE - BREEDING CONTRACT -
CLIENT COMMENTS - CONTACT
THE ANCESTOR GALLERY -
Tennessee Walking Horse National Museum - Pj Wamble Gallery
TWHBEA COLOR CODES -COLOR CHART - LEGENDS - FOUNDATION BOOK - BREED HISTORY - WORLD CHAMPIONS
GHOST HORSES
- LINKS - BANNERS - RINGS - GUEST BOOK - PHOTO ALBUM
GLOBAL TIME CLOCKS - THE LIBRARY -
PUZZLES - 2017 WALKERS WEST CALENDAR

Walkers West
3236 FM 2578
Kaufman, TX. 75142
Cell (214) 507-6032
Email: walkersw@earthlink.net


We can ship overseas.


<==

Click here for Currency Exchange Rates
COPYRIGHT NOTICE

Hosted on


Last Updated: March 27, 2017