World Grand Champion in 2012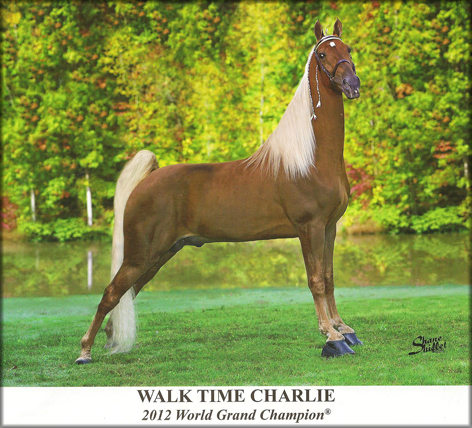 Saturday Night in Shelbyville! There's just something different about Championship Saturday. It's the 74th Annual Celebration. Over a hour prior to show time, there was a buzz all over Shelbyville that's just not present most any other time.
All 12 entries that presented for the class made the gate call, a fact noted with pride by ring announcer Bobby Sands. This year, they included a mare, a gelding, two stallions 15.2 hands and under, and eight stallions from the over 15.2 division. The contenders were The Family Jewels, Texas Joe Black, He's My Main Man, Walk Time Charlie, Rowdy Rev, Ozone's Cut Above All, Folsom Prison Blues, King Of The Jungle, Southern Dollar, I'm Copperfield, Putting Cash On The Line and Champagne Watchout.
Walk Time Charlie victory pass.
When the dust had settle, and the judges' cards were tallied, they had unanimously agreed -
The 2012 World Grand Championship Stake had been unanimously won by Walk Time Charlie and Chad Baucom for owners, Jordan Holland of Decatur, AL, Connor Kilgore of Tuscaloosa, AL and John Callicut of Seagrove, NC.
After two runner-up showings earlier in his career, Chad Baucom finally found a winning horse in the big stake. The 45-year-old trainer from Monroe, N.C., won his first big stake aboard Walk Time Charlie on Saturday night. Baucom rode Star of the Future to reserve honors 20 years ago and he was aboard Star for a second-place finish in 2010.

"It's a once-in-a-lifetime feeling," Baucom said. "I thought we had a chance with this horse. I didn't know if it would happen this year or not, but I knew he was good enough to win it one of these days."

"This is the best show we've ever gotten out of him tonight and he just shined in there," Baucom said. "I've been doing this professionally since I was 15, so it's pretty hard to win it."
Foaled 03/15/2007, Walk Time Charlie was bred by Mr. Robert Stannard, Jr. of Rolling Acres Farm & Stables in Lebanon, KY. Walk Time Charlie is a beautiful 5-year-old chestnut stallion with a white mane and tail , standing 16.1 hands tall. He is sired by the great Lined With Cash, out of Rebel's Design, a daughter of Silver Design.
Last year Baucom and Walk Time Charlie finished reserve behind I'm Copperfield in the
preliminary of the 4-Year-Old Stallions class. But an injury hampered their performance in
the Junior World Grand Championship and the duo finished fourth.

Walk Time Charlie was sidelined from competition after an injury last year. He suffered a pastern infection in 2011, but rebounded strong this year. "He was out for eight months," Baucom said. "It has taken him a long time to get back to where he was last year, but I think he is finally there. We are optimistic." His size and his walk and shake make him special," Baucom said.
Walk Time Charlie was also 2011 WHTA National Trainer's Show Amateur Four Year Old
Stallions Winner.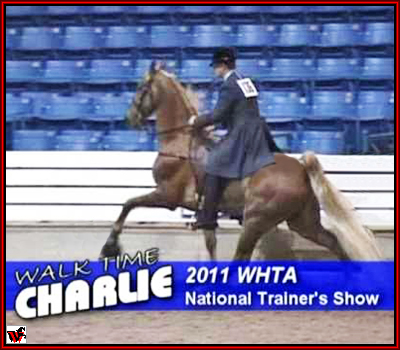 Walk Time Charlie - 2011 WHTA National Trainer's Show Amateur Four Year Old Stallions Winner.
This week, Walk Time Charlie was the unanimous pick of the five-judge panel in the "B' Division of the Walking Stallions, Over 15.2, Five Years Old and Over, class. It was only the second time in a show ring for Walk Time Charlie with trainer Chad Baucom in the saddle. They were tied first at Lewisburg.

"We were thrilled with the show he made," Baucom said. "He has a lot of walk and a lot of
shake. He is a true walking horse."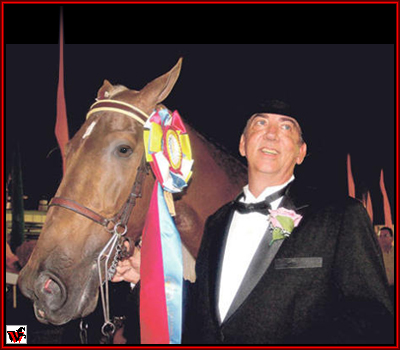 Wins prior to the 2012 World Grand Championship were:

08/22/12 AGED WALKING STALLIONS, OVER 15.2 Champion, 2012 CELEBRATION - SHELBYVILLE, TN
07/27/12 MARSHALL CO HORSEMAN'S ASSOC - LEWISBURG, TN CHAMPIONSHIP STAKE CLASS Champion
08/24/11 CELEBRATION 2011 - SHELBYVILLE, TN 4 YEAR OLD STALLIONS, CANTER, RIDER'S CUP Reserve Champion
08/24/11 CELEBRATION 2011 - SHELBYVILLE,TN 4 YEAR OLD WORLD GRAND CHAMPIONSHIP CANTER - Fourth
06/30/11 TONY RICE HORSE SHOW - SHELBYVILLE,TN 4 YEAR OLD OPEN RIDER'S CUP Champion
05/26/11 SPRING FUN SHOW - SHELBYVILLE,TN 4 YEAR OLD STALLIONS OPEN CANTER WHTA RIDERS CUP Champion
03/17/11 NATIONAL TRAINERS ANNUAL WALKING HORSE SHOW - 4 Year Old Amateur Stallions Specialty Champion
10/08/09 NORTH CAROLINA CHAMPIONSHIP - FLETCHER, NC 2 YEAR OLD STALLIONS Reserve Champion
09/16/09 KENTUCKY CELEBRATION - LIBERTY,KY 2 Year Old Stallions & Geldings Champion
03/13/09 41ST ANNUAL NATIONAL TRAINERS' SHOW - - SHELBYVILLE 2 YEAR OLD STALLIONS RIDER'S CUP Champion
If you wish to print off this pedigree, click HERE to load a black and white copy.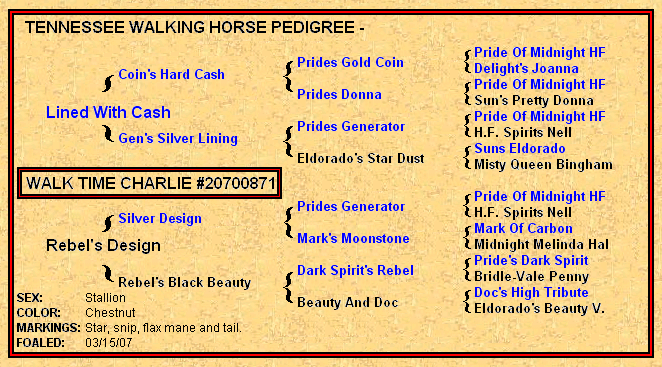 If you have a story or photos of Walk Time Charlie that you would like added to this page,
please forward them to Walkers West.



MAIN - EMAIL WALKERS WEST - STALLIONS - SALE HORSES - TACK - CYBER-BARN TOUR
OFFICE - COLT COLLEGE - BREEDING CONTRACT -
CLIENT COMMENTS - CONTACT
THE ANCESTOR GALLERY -
Tennessee Walking Horse National Museum - Pj Wamble Gallery
TWHBEA COLOR CODES -COLOR CHART - LEGENDS - FOUNDATION BOOK - BREED HISTORY - WORLD CHAMPIONS
GHOST HORSES
- LINKS - BANNERS - RINGS - GUEST BOOK - PHOTO ALBUM
GLOBAL TIME CLOCKS - THE LIBRARY -
PUZZLES - 2017 WALKERS WEST CALENDAR

Walkers West
3236 FM 2578
Kaufman, TX. 75142
Cell (214) 507-6032
Email: walkersw@earthlink.net


We can ship overseas.


<==

Click here for Currency Exchange Rates
COPYRIGHT NOTICE

Hosted on