Triple Threat #612233
If you wish to print off this pedigree, click HERE to load a black and white copy.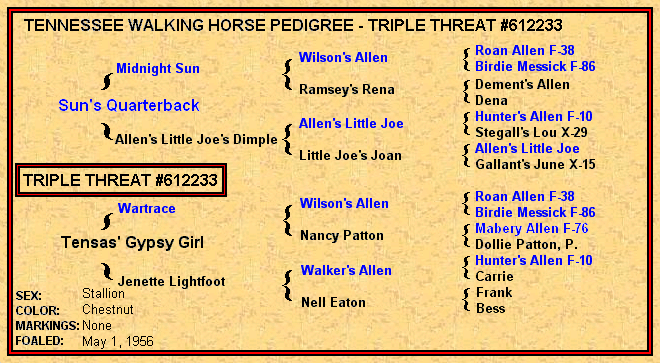 Triple Threat was sired by Sunís Quarterback, a son of Midnight Sun. His dam was Tensas Gypsy Girl who was a daughter of Wartrace. He was bred by Robert Ellis, Jr. of Amite, Louisiana and registered to Mrs. Maud Ellis Palmer. Triple Threat was foaled May 1, 1956 at Ingleside and known during his early years as Traveller. Mrs. Palmer intended for this to be his registered name, but the papers were accidentally burned by a maid, and the horse was never registered until he was 5 years old, as Triple Threat.
In 1963, while the property of Circle T Ranch in Roanoke, Texas, Triple Threat won the Reserve Champion Stallion and Reserve Grand Championship with Harold Kennedy up.

Pat Kimbrough of Murfreesboro, TN, purchased the stallion soon after the Celebration, but before the spring of 1964, sold him to C. E. Clement, J. B. Sherrill and Clyde Abernathy of Hickory, NC.

He was their horse during the 1964 Celebration.

Triple Threat again won the Reserve Stallion and Reserve Grand Championship, under Harold Kennedy in 1964.
During the 1965 Murray Farm Spring Sale, the stallion was sold to Hank Sheely of Dallas, TX. Sheely sold him to Joe Wright of Nacogdoches, TX. Joe Wright was his proud owner when he won the World Grand Championship in 1965. He had previously also won the Stallion class.

In the big Championship Stakes of 1965, there were eleven entries, but Triple Threat and Doug Wolaver were chosen by both the judges and the referee, after 50 minutes of hard competition. The ovation of the crowd confirmed the judgesí selection of the winners.
Immediately following the arduous show, Triple Threat was put to stud in Middle Tennessee. Joe Wright soon sold part interest in the champion to Bob Guinn of Savannah, Tenn. and A. W. Kroesche of San Antonio, TX. He was later sold during the summer of 1966 to Gottlob Koenig of Daytona Beach, Florida. He sired the 1979 World Grand Champion, Threatís Supreme.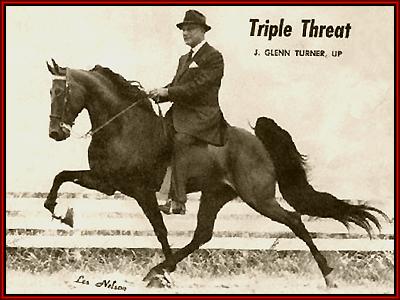 Photos contributed by Judy Crunk of Green Valley Farm

From: KURT JAEGER
To: walkerswest@walkerswest.com
Sent: Friday, December 12, 2003 5:49 PM
Subject: Triple Threat

I am from St. Louis, MO.
I went to Morehead State University in Morehead, KY., where I was very fortunate to know Triple Threat during his last few years of life. He lived on our University Farm in the stud barn with his goat "Hershel." I was there when he died, and although "Triple Threat Again" was also in our barn and Hershel was given to him, the goat died shortly after the death of TT and the barn was never the same.
Just a short little story :)
Kim Jaeger

----- Original Message -----
From: JL Turner
To: walkerswest@walkerswest.com
Sent: Thursday, December 15, 2005 4:08 PM
Subject: Triple Threat

There is a picture of a rider on Triple Threat's page that appears at the bottom of the page. That rider, J. Glenn Turner, was my grandfather--he was owner of the Circle T Ranch and a very active breeder of Tennessee Walkers. I would be curious what information you have about Glenn's ownership of Triple Threat. Would you happen to know when he owned him?

Best regards,
John Turner

----- Original Message -----
From: Mary Ellen Areaux
To: JL Turner
Sent: Thursday, December 15, 2005 3:57 PM
Subject: Re: Triple Threat

John
I am very much aware that your Grandfather owned Triple Threat, and that he owned Circle T Ranch. I am with a big shopping center company and we are getting ready to build a new lifestyle center called Circle T Fashion Center...on a portion of that ranch...and I am probably the only person in this very large company that knows what and who Circle T stands for. Attached is a history of Triple Threat that tells that your grandfather owned him in about 1963. There is a trainer in this area, Dub Ivins, who is in his 70's, that started his training career at Circle T. He is one of the few people still living that has first-hand knowledge of the operation. I am sending a copy of this email to him as well.
Mary Ellen Areaux
Walkers West

----- Original Message -----
From: chase2280@aol.com
To: walkerswest@walkerswest.com
Sent: Thursday, May 25, 2006 3:21 PM
Subject: Triple Threat

My grandfather also owned Triple Threat for a while. It was in the late 60's early 70's (if I remember correctly). My grandfather, Ray Dunaway, passed away several years ago, but I know he loved Triple Threat. He was his favorite. I was wondering if you could send me the history of Triple Threat.

Thanks,
Sarah (Garrett) Hofmeister

----- Original Message -----
From: JL Turner
To: walkerswest@walkerswest.com
Sent: Thursday, July 13, 2006 9:12 AM
Subject: A Personal Thanks

Dear Mary Ellen,

I want to thank you for posting our last email exchange. Since then I have been contacted by several people familiar with the early days of the Circle T Ranch. It has been a richly rewarding personal experience connecting with these people. Your site made it happen. Thank you.

Warmest regards,
John Turner

----- Original Message -----
From: M. Westfield
To: walkerswest@walkerswest.com
Sent: Wednesday, January 02, 2008 5:53 PM
Subject: Mrs. Maude Ellis Palmer and Triple Threat

Hi Mary Ellen- I liked the info on Triple Treat, but the original owners and breeders of this horse as well as his first trainer get barely a mention or none at all. Let's set the record straight. You should speak with Digby Palmer, the son of Mrs. Maude Ellis Palmer if you want the story of Triple Threat's early years as it was the Ellis family of Ingleside Plantation in Amite that bred Triple Threat, trained him and owned him for five years- his formative years. Mrs. Maude Ellis Palmer taught at Southeastern Louisiana University. My late husband Hamilton B. Willis was one of her students. Mrs. Maude was still living when we bought several horses from her and her son Digby who trained and showed some of them for us. This included Tin Lizzie and Direct Allegra JD. He also trained and showed our stallion Hamilton's Delight. This horse was a coming three year old and with less than 60 days with Digby he won the Lake Charles 3 year old and under open class, was reserve in the same class at the Strolling Jim Heyday and won blues in several of the local Heart of Dixie shows. Hamilton thought, and I think that Digby is one of the best horsemen and trainers living today when it comes to gaited horses. It is a shame that he has not received the recognition he so richly deserves as one of the greatest and most devoted trainers the walking horse world has seen. He too is still living and training (or so I've been told) now near Macomb, MS.

Mrs. Hamilton Barrow Willis

----- Original Message -----
From: Mary Ellen Areaux
To: M. Westfield Cc: Bansidhe Graphics
Sent: Thursday, January 03, 2008 12:13 AM
Subject: Re: Mrs. Maude Ellis Palmer and Triple Threat

Mrs. Willis Thank you so much for your information. I will try to get in touch with Digby. He was training over here in Texas for a while, but our paths did not cross very often and I did not have the pleasure of getting to know him. I had not idea he was involved with Triple Threat. I will try to contact him for more information. It's people like yourself that help us fill in the blanks and we greatly appreciate your input.

Mary Ellen Areaux
Walkers West
Kaufman, TX

If you have a story or photos of Triple Threat that you would like added to this page, please forward them to Walkers West.



MAIN - EMAIL WALKERS WEST - STALLIONS - SALE HORSES - TACK - CYBER-BARN TOUR
OFFICE - COLT COLLEGE - BREEDING CONTRACT - CLIENT COMMENTS - CONTACT
THE ANCESTOR GALLERY - Tennessee Walking Horse National Museum - Pj Wamble Gallery
TWHBEA COLOR CODES -COLOR CHART - LEGENDS - FOUNDATION BOOK - BREED HISTORY - WORLD CHAMPIONS
GHOST HORSES - LINKS - BANNERS - RINGS - GUEST BOOK - PHOTO ALBUM
GLOBAL TIME CLOCKS - THE LIBRARY - PUZZLES - 2017 WALKERS WEST CALENDAR

Walkers West
3236 FM 2578
Kaufman, TX. 75142
Cell (214) 507-6032
Email: walkersw@earthlink.net


We can ship overseas.

<==

Click here for Currency Exchange Rates
COPYRIGHT NOTICE
Hosted on