World Grand Champion in 1994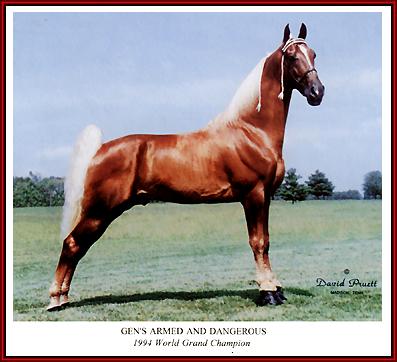 Gen's Armed And Dangerous #887590
Owned by Susan Arthur Gordon of Orange County, California, Gen's Armed and Dangerous was bred by B.G. Alford, Jr. of Oxford, Mississippi. First owned by Claude Crowley, Thompson purchased Gen's Armed and Dangerous as a colt after seeing him at the Walking Horse Trainers' Auxiliary Show on the Celebration Grounds. He then sold him to the Gordons. Normally a prospect at the end of a lead strap would be a chancy proposition, but Thompson could see the future in this particular colt. He felt there were no limitations as to what the horse could do, as long as he as a trainer could do his job, and do it well.
| | |
| --- | --- |
| | A native of Hartsville, Alabama, Thompson grew up in Woodbine, Tennessee and although his family enjoyed going to horseshows and often encouraged Thompson to join them, he had other interests ...cars. At the young age of 17 he headed to California and opened an automotive shop. His interest in horses began while there when he traded his motorcycle for a horse, a Tennessee Walking Horse. My Midnight Melody was the horse and Thompson says that Walking Horses are the only kind he has ever ridden. In 1973 he began his training career, a career which 17 years later would lead him to a handsome, sorrel colt in Tennessee. |
Thompson had good stock to work with. Sired by Pride's Generator and out of Melana Ebony, Gen's Armed and Dangerous has a bloodline traceable to the foundation stock of the Tennessee Walking Horse including three World Grand Champions-Ebony Masterpiece, Merry Go Boy and Midnight Sun. The training went well and came easy according to Thompson. He describes Gen's as being just "about the most natural horse I've ever seen."
| | |
| --- | --- |
| | As a two-year-old, Gen's Armed and Dangerous was the National Futurity Champion and the reserve two-year-old World Grand Champion. As a three year-old he received the World Grand Champion title, and in 1993 Gen's was reserve in the Four-Year-Old World Grand Championship. Thompson admits to not having Gen's ready for his 1993 Celebration showing, but he says he knew by June this year, if he could stay focused, Gen's was ready. |
| | |
| --- | --- |
| The first Saturday night brought a reserve to the California pair. Thompson and the Gordons were pleased, but eager to get back in the ring. Thompson knew Gen's had more to deliver. He was right. As they waited and the spotlight searched for the victor the adrenaline was pumping for that first pair. Thompson caught the eyes of a good friend in the audience who smiled big and gave him the thumbs up. As Thompson once again looked at the other horses and their trainers one by one, men whom he looked up to and horses that he describes as the best in the world, the spotlight stopped. They were the first to enter the ring that night but the last to leave, and they left with their heads held high and the roses pulled close, for they were now part of an elite few and proud to be there. | |
They were the first to enter the show ring for the final class of the 56th Annual Tennessee Walking Horse National Celebration. As the other 17 contenders entered the ring, the trainer and his horse waited under the star-strewn, black sky. He watched with a keen eye as each horse entered the ring one by one to the exciting cheers of the more than 28,000 fans in attendance. As the gate closed and the cheers began to subside he realized the opportunity that laid before him and his partner. When it was all over the waiting brought the spotlight to that very first pair, number 34 Russ Thompson and Gen's Armed and Dangerous.

| | |
| --- | --- |
| photo by Jack Greene | When Thompson and Gen's Armed and Dangerous were named World Grand Champion it was a first, not only for Thompson, but for the World Grand Championship title. It was the first time for a horse from California and trained in California to receive this prestigious award. |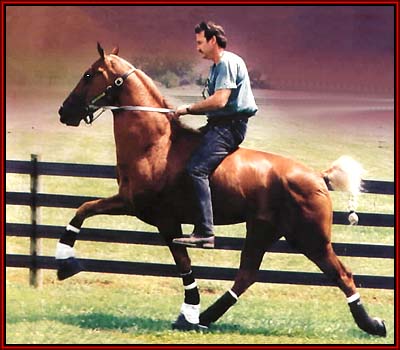 GEN'S ARMED AND DANGEROUS AND THE LATE DAVID KRANICH
'hitting a lick', the morning after the Celebration.
P J Wamble was there to photograph the informal event.
If you wish to print off this pedigree, click HERE to load a black and white copy.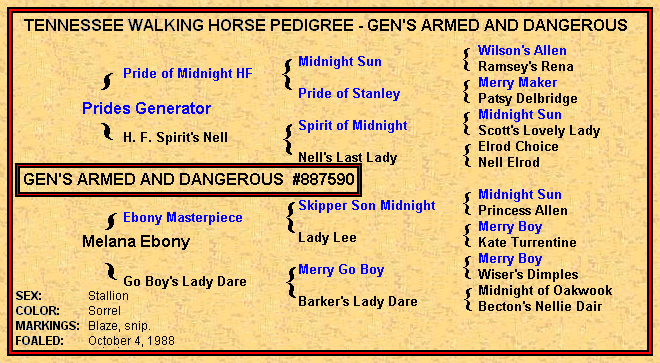 If you have a story or photos of Gen's Armed And Dangerous
that you would like added to this page, please forward them to Walkers West.


MAIN - EMAIL WALKERS WEST - STALLIONS - SALE HORSES - TACK - CYBER-BARN TOUR
OFFICE - COLT COLLEGE - BREEDING CONTRACT -
CLIENT COMMENTS - CONTACT
THE ANCESTOR GALLERY -
Tennessee Walking Horse National Museum - Pj Wamble Gallery
TWHBEA COLOR CODES -COLOR CHART - LEGENDS - FOUNDATION BOOK - BREED HISTORY - WORLD CHAMPIONS
GHOST HORSES
- LINKS - BANNERS - RINGS - GUEST BOOK - PHOTO ALBUM
GLOBAL TIME CLOCKS - THE LIBRARY -
PUZZLES - 2017 WALKERS WEST CALENDAR

Walkers West
3236 FM 2578
Kaufman, TX. 75142
Cell (214) 507-6032
Email: walkersw@earthlink.net


We can ship overseas.


<==

Click here for Currency Exchange Rates
COPYRIGHT NOTICE

Hosted on