World Grand Champion in 1993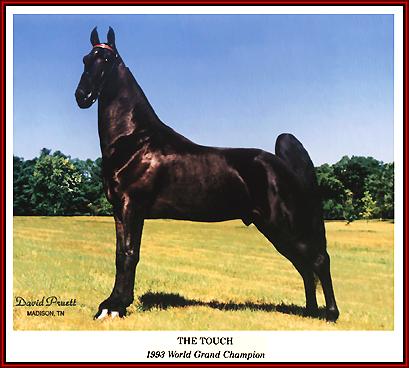 The Touch #885121
Grey John's Touch (whose name was later shortened to The Touch) was bred and raised by Joe C. Martin, a close and dear friend to Nancy and Hoil Walker from Murfreesboro. Martin owned both his sire, Another Grey John, and his dam, Spirit's Ebby. Another Grey John was sired by Pride's John Grey who was by Pride Of Midnight The first opportunity for the Walkers to see The Touch was on their television. On a visit, friends Peggy and Joe C. Martin brought along tapes of their two-year-old prospect. Nancy Walker liked what she saw and she liked the idea of getting back into the horse business, an industry she and Hoil had been associated with for 35 years. She had been trying to find something for Hoil to do besides working all the time and this seemed to be the answer. Nancy was ready to buy Martin's horse; Martin insisted she wait until the horse was showing more of his potential. In the mean-time the Walkers acquired a most promising stallion, Pride's Pattern.

As a colt, The Touch was started by trainer, Billy Brantley. Then in 1991 he was moved to Ramsey Bullington in hopes a world champion was in the making. It wasn't long until offers to buy Martin's horse surfaced. In July Martin kept his promise and offered the Walkers The Touch.
| | |
| --- | --- |
| | It was decided a young man by the name of Chad Way, who had worked with Ramsey Bullington, would try his skill at training the Walker's new and equally young stallion. The Walkers had met Way when Pattern was with Bullington as a 4-year old. They quickly grew fond of Way and developed a great respect for him as a trainer. By the Spring of '93 the Walkers had two contenders, Pride's Pattern and The Touch. |
Hampered by an onset of health problems, Pattern was put on the back burner and The Touch was called upon to feel out the competition in the Spring Fun Show. Following a popular reserve, Chad Way and The Touch were rumored to be capable of bringing much interest to the '93 Celebration. With Pattern's career on hold, it was decided in June to go forward, in full force, with Way and The Touch as contenders for the world grand championship. After wins at Bethesda and Belfast, prior to his popular reserve tie in the Celebration's aged stallion preliminary, The Touch was on his way!
| | |
| --- | --- |
| The instant the five year-old, black stallion and his young trainer entered the show ring on the final Saturday night of the 55th Celebration, excitement spread among the record crowd. Sixteen world championship contenders, but only one world grand champion team to be chosen. 1993 was the year for Chad Way and The Touch. Way, 22 and the youngest trainer to claim such a victory, had achieved the life-long goal. A goal which took his predecessor, Bud Dunn, 44 years to accomplish; a goal which has evaded many of their associates. Age and dreams were far from the young trainer's mind as he guided The Touch around the ring that special night. A virtual unknown until this summer, The Touch and his trainer worked equally hard to leave their touch on the crowd assembled to pick and support a favorite. Neither the bright glowing moon nor the star-filled sky could outshine the pair that night. | |
Owners Nancy and Hoil Walker could see and feel a victory, not only in Way and The Touch, but in the crowd of 29,131. Considered by many as a non-contender during the early 1993 season, The Touch had enjoyed a mediocre success during his three and four-year-old seasons with his biggest win being a reserve title awarded in four-year-old stallion ranks at the 1992 Celebration. It was a season of surprises which progressed with The Touch turning in prized winning performances in Aged ranks at Manchester, Bethesda and Belfast and with a crowd pleasing reserve at the Spring Fun Show. By the time the 1993 Celebration was here, the young stallion and his equally young trainer had developed quite a following.

Some may describe it as a fairy tale come to life, for a young trainer and his virtually unknown horse, riding in their first world championship, ending with the spotlight and the roses. And if it is, let the moral of this tale hold true for the dream of having a world grand champion by owners, trainers and breeders, alike, no matter how big or small, can come true.
If you wish to print off this pedigree, click HERE to load a black and white copy.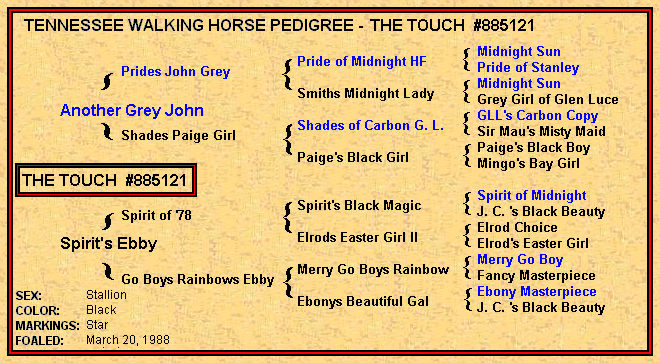 ----- Original Message -----
From: Risingstar952@aol.com
To: walkerswest@walkerswest.com
Sent: Monday, May 23, 2005 10:40 PM
Subject: The Touch


Mary Ellen Areaux,

First, I would like to say how much I enjoy your website. I refer many newcomers to it that really want to know the history of the Walking Horse.

As I stand The Touch; previously at Twin Hills, through the stay at Black Hawk and now at Rising Star, I am building a new webpage for The Touch and your history of him is so accurate and detailed that I feel anything I would try to write as comments for him for his new page would either be sub-par to what you have written or bordering on plagiarism by trying to describe the same events of his life.

I would like your permission to reprint your description of his life on his new webpage giving you full and total credit for the comments.

If you can, I thank you in advance and if you cannot I understand fully.

We do love the Walkers West website. It is indeed a treasure for our breed.

Sincerely,

David W. Williams
Rising Star Ranch

----- Original Message -----

From: K.C.M.P
Sent: Thursday, March 26, 2009 12:18 AM
Subject: The Touch

I was there the night The Touch won the Championship in Shelbyville. I had never seen this horse before but the minute he stepped out into the rink he stole my heart. He was #1 and he KNEW IT! I still think of The Touch every now and again. It used to be my life dream to have a descendant of The Touch. Years later as I have grown up, started a family and pretty much gotten out of show horse circuit there is still one horse and one horse only that has my heart and that is The Touch.
Sincerely

I know what you mean about The Touch. I was there that night too. Pusher's Big Score was the horse rumored to win. And then The Touch came in and was so awesome. And the neat thing was that he positioned himself right in front of Pusher's Big Score so you could see them together - and there was no doubt who the better horse was. The strange thing is that the company that is the official videographer for the Celebration - WDA - missed it completely. I bought their video of the Celebration and couldn't wait to see the class again and you could hear the crowd going crazy in the back ground while they were videoing some "also ran" on the other side of the arena. Missed the whole show.
Thank you for your comments. We'll put them on the website.

If you have a story or photos of The Touch
that you would like added to this page, please forward them to Walkers West.


MAIN - EMAIL WALKERS WEST - STALLIONS - SALE HORSES - TACK - CYBER-BARN TOUR
OFFICE - COLT COLLEGE - BREEDING CONTRACT -
CLIENT COMMENTS - CONTACT
THE ANCESTOR GALLERY -
Tennessee Walking Horse National Museum - Pj Wamble Gallery
TWHBEA COLOR CODES -COLOR CHART - LEGENDS - FOUNDATION BOOK - BREED HISTORY - WORLD CHAMPIONS
GHOST HORSES
- LINKS - BANNERS - RINGS - GUEST BOOK - PHOTO ALBUM
GLOBAL TIME CLOCKS - THE LIBRARY -
PUZZLES - 2017 WALKERS WEST CALENDAR

Walkers West
3236 FM 2578
Kaufman, TX. 75142
Cell (214) 507-6032
Email: walkersw@earthlink.net


We can ship overseas.


<==

Click here for Currency Exchange Rates
COPYRIGHT NOTICE

Hosted on