World Grand Champion in 1984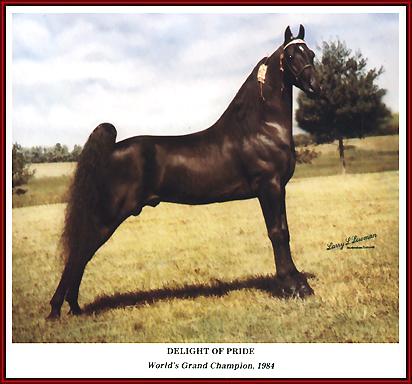 Delight Of Pride #795892
To the thunderous acclaim of the crowd and the unanimous vote of the judges, Delight of Pride became the 40th Tennessee Walking Horse to wear the floral horseshoe of the World's Grand Champion.

The five-year-old, liver-chestnut stallion was trained and ridden to victory by Billy Gray, of Sand Creek Farm, Shelbyville. It was Gray's third World's Grand Championship, with previous wins on Delight Bumin' Around in 1973 and Pride's Secret Threat in 1982.

Delight of Pride is the son of super-sire Pride of Midnight and Delight Country Girl. He was raised by Ron Inman and Don Stanley of Salem, Missouri, and was started under saddle by Danny Forrester, who bought Delight of Pride from Inman and Stanley in December, 1980, but re-sold him to Herb Murrath later that same month. Gary Edwards of Carl Edwards and Sons' Stables campaigned Delight of Pride successfully as a three- and four-year old, winning reserve World's Championship in the Three-Year Old Stallion Class at the 1982 Celebration.

Dr. Sisk, his wife, Linda, and three sons, Scott, Adam and David, became owners of Delight of Pride shortly after the 1983 Celebration, ending a search for a horse of World's Championship caliber. The payoff came more quickly, and more handsomely, than anyone anticipated. After his purchase by the Sisks, the horse was placed under the guidance of Jimmy Holder of Columbia who showed him to a third place in his class at the Alabama Jubilee in Decatur and to a blue in the Four-Year-Old Class at the Florida Championship Show in Ocala.

When Holder's training barn was closed in January, 1984, Delight of Pride and several other horses owned by the Sisks were transferred to Sand Creek Farm in Shelbyville. In his first show ring appearance under Billy Gray's tutelage at Gallatin, Tennessee, Delight of Pride was awarded the blue in an impressive performance. He also made the winner's circle at Columbia and Bethesda, Tennessee, before making his bid for the World's Grand Championship at Celebration '84.
The team victory for Delight of Pride, Billy Gray and owner, Dr. Andrew Sisk of Columbia, Tennessee, was the outcome of a strenuous workout of five stallions in the finale of the 46th annual Tennessee Walking Horse National Celebration. The winning stallion also had won all three first place votes of the judging in the preliminary class on the previous Saturday night at the Celebration.

Billy Gray and Delight of Pride display the breathtaking action that contributed to a unanimous decision of the judges and crowd acclaim in winning the World's Grand Championship at Celebration '84.
The sleek beauty of Delight of Pride is outstanding. He has a beautifully arched neck, finely tuned head with alert, pointed ears, flashing eyes, and overall excellent conformation. In the show ring, his action is breathtaking. His competitive show ring appearances are over, however, limited henceforth to exhibitions. After his World's Grand Championship win, Delight of Pride was retired to stand at stud at Sand Creek Farm, under the supervision of Billy and Tim Gray and stud manager Charlie Moore.
Interview with Billy Gray
If you wish to print off this pedigree, click HERE to load a black and white copy.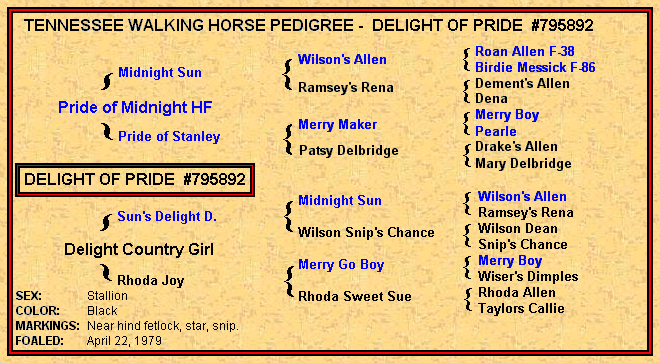 If you have a story or photos of Delight Of Pride
that you would like added to this page, please forward them to Walkers West.


MAIN - EMAIL WALKERS WEST - STALLIONS - SALE HORSES - TACK - CYBER-BARN TOUR
OFFICE - COLT COLLEGE - BREEDING CONTRACT -
CLIENT COMMENTS - CONTACT
THE ANCESTOR GALLERY -
Tennessee Walking Horse National Museum - Pj Wamble Gallery
TWHBEA COLOR CODES -COLOR CHART - LEGENDS - FOUNDATION BOOK - BREED HISTORY - WORLD CHAMPIONS
GHOST HORSES
- LINKS - BANNERS - RINGS - GUEST BOOK - PHOTO ALBUM
GLOBAL TIME CLOCKS - THE LIBRARY -
PUZZLES - 2017 WALKERS WEST CALENDAR

Walkers West
3236 FM 2578
Kaufman, TX. 75142
Cell (214) 507-6032
Email: walkersw@earthlink.net


We can ship overseas.


<==

Click here for Currency Exchange Rates
COPYRIGHT NOTICE

Hosted on