World Grand Champion in 1974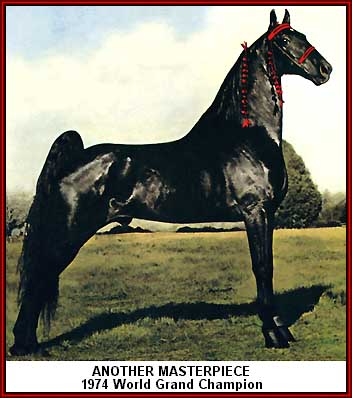 Another Masterpiece #681363
ANOTHER MASTERPIECE was a physically outstanding example of a champion Tennessee Walking Horse. He was a jet black stallion, weighing approximately 1250 pounds and standing 17 hands tall. He was considered by veteran horse show observers to be one of the breed's most natural horses, and proved he had the stamina to win against the toughest competition. It is rare for a horse of his size to be considered "a pretty horse" but ANOTHER MASTERPIECE was one of the most physically attractive champions in years.
The breeding of ANOTHER MASTERPIECE was well planned by the owner of both his sire and dam, Billy Hale. Billy bred his great 1962 World Grand Champion, EBONY MASTERPIECE, to PRIDE'S ELEGANT LADY, a fine mare by PRIDE OF PANOLA. The resulting colt showed promise beginning early in his career by tying reserve in the Two-Year-Old Class of the Breeders' Futurity with Bud Seaton in the saddle.
| | |
| --- | --- |
| The career of ANOTHER MASTERPIECE actually got started when Henry Moore of Monroe, Ohio purchased this horse from Billy Hale of Gallatin, Tennessee and placed him in training in Monroe with Jay Cobb. Jay did an outstanding job of developing this big horse's talent without killing him as a young horse and brought him to a peak by winning the Junior World Grand Championship in 1972. The following year Jay brought the horse back in open competition and, as pointed out above, won the Aged Stallion Class and tied third in the Grand Championship. | |
Just after the 1973 Celebration, ANOTHER MASTERPIECE was moved to the Ronnie Spears Stables. After a short getting acquainted period, Ronnie took his horse on a tough circuit of horse shows designed to have him ready for the challenge of the 1974 Celebration. Ronnie and his horse began by winning the Aged Stallion Class at the Montgomery Southern Championship to close the 1973 show season. They began 1974 with a bang by winning the Championship at the Walking Horse Trainers National Show and coming back in midseason to win the Stallion Class at the Spring Celebration Fun Show. Their final tune-up for the Celebration was at a great one-night horse show in Belfast where they won another outstanding victory.
In his victorious year, ANOTHER MASTERPIECE completely dominated his division winning the Aged Stallion Class and the Grand Championship with first place ties on all three judges' cards in both classes.

The triumph of ANOTHER MASTERPIECE in the Grand Championship of the National Celebration culminated a determined effort to win this biggest of all championships. ANOTHER MASTERPIECE was competing for the second year in aged competition, and the year previous had won one of two Aged Stallion Preliminary Classes and tied third in the Grand Championship.
Shortly after his two outstanding wins at the Celebration, it was announced that ANOTHER MASTERPIECE would stand at public service at the S. W. Beech and Sons Stables, Belfast, Tennessee. He is buried there.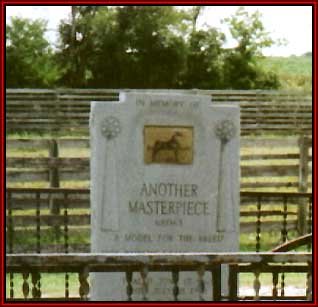 If you wish to print off this pedigree, click HERE to load a black and white copy.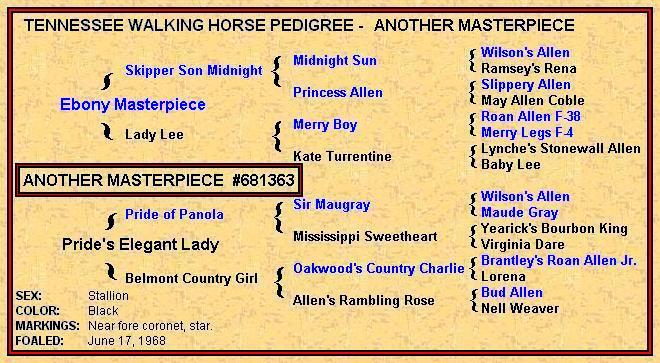 If you have a story or photos of Another Masterpiece that you would like added to this page, please forward them to Walkers West.



MAIN - EMAIL WALKERS WEST - STALLIONS - SALE HORSES - TACK - CYBER-BARN TOUR
OFFICE - COLT COLLEGE - BREEDING CONTRACT -
CLIENT COMMENTS - CONTACT
THE ANCESTOR GALLERY -
Tennessee Walking Horse National Museum - Pj Wamble Gallery
TWHBEA COLOR CODES -COLOR CHART - LEGENDS - FOUNDATION BOOK - BREED HISTORY - WORLD CHAMPIONS
GHOST HORSES
- LINKS - BANNERS - RINGS - GUEST BOOK - PHOTO ALBUM
GLOBAL TIME CLOCKS - THE LIBRARY -
PUZZLES - 2017 WALKERS WEST CALENDAR

Walkers West
3236 FM 2578
Kaufman, TX. 75142
Cell (214) 507-6032
Email: walkersw@earthlink.net


We can ship overseas.


<==

Click here for Currency Exchange Rates
COPYRIGHT NOTICE

Hosted on