World Grand Champion in 1989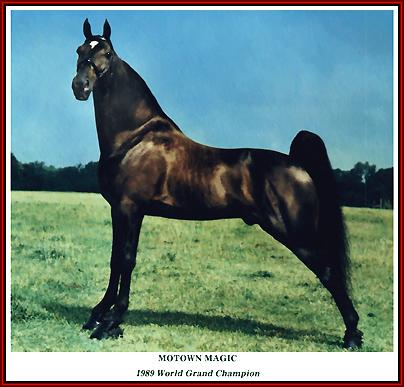 Motown Magic #835331
Motown Magic was foaled on April 7, 1983 and was bred by Carl Parker-his sire, Go Boy's Black Fury; his dam, Sundust Little Miss, a mare by Go Boy's Sundust. The foal was registered on June 27, 1985 as Little Miss's Fury. This name was changed on March 24, 1986 to Go Boy's Booger Man. His name ultimately became Motown Magic. It was in March of 1986 that he commanded the attention of John Dunn's daughter, Sarah. Shortly after, the Dunns purchased Motown and embarked on a most successful career. The Dunns chose Joe and Judy Martin to complete the stallion's show ring preparations and immediately began collecting the blues in both open ranks with Joe Martin and amateur ranks with Sarah at the reins. In June 1987, Trainer Ernest Upton assumed direction of Motown and guided the up and coming star through two Celebrations before turning the reins over to Bud Dunn and Son Stables.

Although a young horse and a newcomer to aged stallion competition, Motown Magic had already made a name for himself prior to the 1989 show by frequenting winners' circles throughout the circuit and claiming many notable awards in both open and amateur events. He had headlined nearly every showcase as a two-, three- and four-year old, including the Razorback Charity Horse Show, the Mississippi State Charity Horse Show and the Columbia Spring Jubilee as well as a host of other prestigious mid-summer and fall shows. The eager black stallion had also claimed the Three-Year-Old World Championship at the 1987 Celebration, and, after an undefeated season, was named Three-Year-Old Horse of the Year by the Walking Horse Trainers' Association.

Then, came 1988, a time of unrest and turmoil stemming from legal battles involving the entire industry. As was the case with many horses, the repeated changing of shoeing regulations adversely affected Motown's performance and, consequently, his promising season as a 4year-old contender. In fact, Motown only placed sixth in the Celebration's Junior Walking Horse World Championship Stake that year.
| | |
| --- | --- |
| | Enter Bud and Steve Dunn, a father and son team from Florence, Ala. who prepared Motown for his first season of aged competition. Together, they guided the gallant stallion to an undefeated season which included blue ribbon wins at the Trainers' show, the Mississippi State Charity Horse Show, the Moneytree Classic, the Hohenwald Horse Show and the Cornersville Horse Show. Under their direction, Motown also claimed top honors in Division B of the Walking Stallions, Over 15.2 Class Saturday night, August 26-the preliminary to the World Grand Champion competition. |
To long-time trainer Steve Dunn, only one thing meant more than that ride under the shimmering spotlight during the closing moments of the 51st Annual Tennessee Walking Horse National Celebration . . .
. . . And that was Motown Magic, the 6-year-old black stallion that had just propelled himself past one of history's finest assemblages of world grand championship contenders to give his trainer a first taste of the ultimate victory and a guaranteed place in the history books as the World Grand Champion of 1989!
| | |
| --- | --- |
| Owned by the John Dunn family of Brentwood, TN, Motown, (or `Mo' as he is affectionately referred to by his closest of fans), made what many describe as a perfect showing in his quest for royalty. He performed with all his heart and with what seemed like the perfect mixture of poetic-like motion and upbeat energy; a mixture which, if written in lyric form, would most likely go straight to the top of the charts. In the saddle, Steve appeared calm, cool and collected. Through the look in his eyes, spectators on the rail could see his 18 years of training experience kicking in as horse and rider became one. The duo was indeed dynamic and it was obvious that Steve's father, trainer Bud Dunn, had taught him well. | |
From the boxes, the John Dunn family watched their first-ever world grand champion contender anxiously, feeling a full rainbow of emotions from the time Motown made his grand entrance before more than 28,000 screaming fans, until the split second when the roving spotlight pierced the darkness and came to a screeching halt on the winning team-their team.

. . . The rest is history.
If you wish to print off this pedigree, click HERE to load a black and white copy.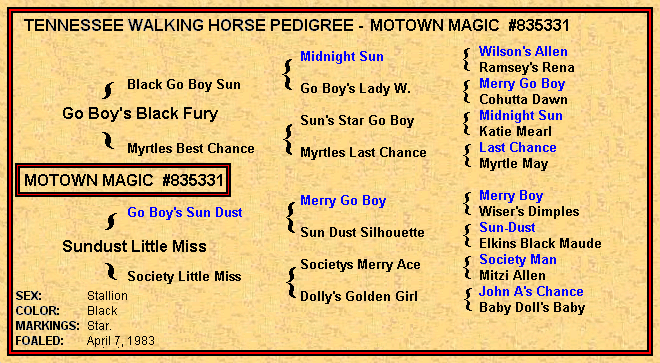 If you have a story or photos of Motown Magic
that you would like added to this page, please forward them to Walkers West.


MAIN - EMAIL WALKERS WEST - STALLIONS - SALE HORSES - TACK - CYBER-BARN TOUR
OFFICE - COLT COLLEGE - BREEDING CONTRACT -
CLIENT COMMENTS - CONTACT
THE ANCESTOR GALLERY -
Tennessee Walking Horse National Museum - Pj Wamble Gallery
TWHBEA COLOR CODES -COLOR CHART - LEGENDS - FOUNDATION BOOK - BREED HISTORY - WORLD CHAMPIONS
GHOST HORSES
- LINKS - BANNERS - RINGS - GUEST BOOK - PHOTO ALBUM
GLOBAL TIME CLOCKS - THE LIBRARY -
PUZZLES - 2017 WALKERS WEST CALENDAR

Walkers West
3236 FM 2578
Kaufman, TX. 75142
Cell (214) 507-6032
Email: walkersw@earthlink.net


We can ship overseas.


<==

Click here for Currency Exchange Rates
COPYRIGHT NOTICE

Hosted on