World Grand Champion in 1967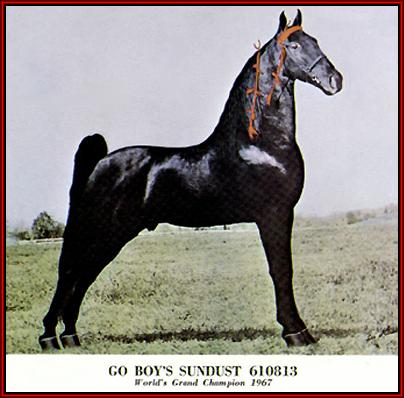 Go Boy's Sundust was foaled the property of Joe Raines of Birmingham, Alabama in April 1960. His sire was Merry Go Boy, the World's Grand Champion Walking Horse in both 1947 and 1948, and was out of Sun Dust Silhouette by Sun Dust. His second dam was a daughter of Midnight Sun, World's Grand Champion of 1945 and 1946.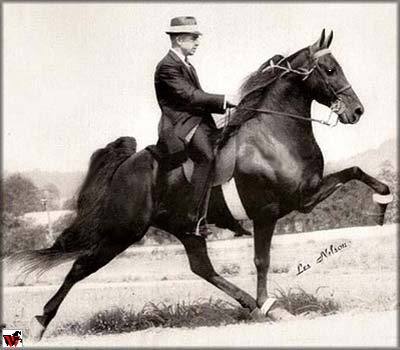 In the winter just after he turned two, Go Boy's Sundust was moved into the Cornersville, Tennessee stable of Howard "Red" Nix to break and train. Go Boy's Sundust had been started there in the Red Nix barn and showed promise of developing into a good saddle colt. Dr. Harold Blanton bought the promising colt and Go Boy's Sundust was moved to the Dave Peebles stable in Decatur, Alabama.
That spring, 1963, Dr. B. S. Henry of Russellville, Alabama was looking for a possible amateur mount for his daughter, Janice. George Witt of Athens, Alabama, went with Dr. Henry to the Peebles table and there the Doctor purchased Go Boy's Sundust for Janice. George Witt showed Go Boy's Sundust lightly, and Janice Henry showed him twice, as a junior, that early summer. Dr. Henry also had a three year old stallion at Witt's, Go Boy's Black Dandy.
| | |
| --- | --- |
| | At Florence, Alabama, Bud Dunn was showing Sundust Perfection, another three year old stallion, for Dr. Henry. Three horses all for the same class! George Witt decided to exert his main efforts in making a stake horse for Dr. Henry with Go Boy's Black Dandy, so Go Boy's Sundust was moved to Bud Dunn's Stable in Florence. At the 1963 Celebration that year, Bud Dunn showed Sundust Perfection and George Witt showed Go Boy's Black Dandy for Dr. Henry in the class for three year old stallions. Dunn showed Go Boy's Sundust at the Jackson, Mississippi show that fall as a three year old and was reserve in the junior stallion class and junior stake there. |
As a four year old, and an aged horse according to horse show rules in those days, he won the stallion class at the Columbia Spring Jubilee and several one night shows prior to Celebration time. At the 1964 Celebration, he was fourth in the aged stallion class and third in the Grand Championship Stake. Later that fall he was winner of the stallion class at both the Southern Championship at Montgomery and the Jackson, Mississippi show.
| | |
| --- | --- |
| In 1965, Go Boy's Sundust was again champion stallion at the Spring Jubilee. He was fifth in the stallion class and fourth in the big stake at the Celebration. That fall he, again, was champion stallion and winner of the championship stake at the Southern Championship in Montgomery, and winner also of these two events at the Mobile, Alabama show. | |
| | |
| --- | --- |
| | At the 1966 Celebration, he was fifth in the stallion class and third in the Grand Championship. That year he repeated his wins at Montgomery and at Mobile by tying first in the class and stake events at those shows. In the spring of 1967, Dr. Henry moved Go Boy's Sundust to the Cornersville, Tennessee, stable of Doug Wolaver, and the rest is history. |
The 1967 Grand Championship award marked the third time for a mount of Doug Wolaver's to receive that distinction. Wolaver had won previous Celebrations with Mack K's Handshaker and Triple Threat.
If you wish to print off this pedigree, click HERE to load a black and white copy.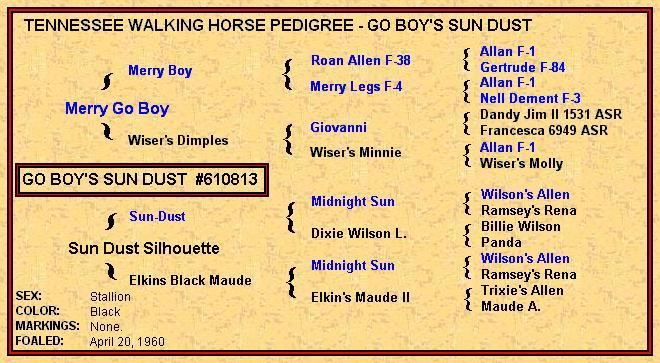 If you have a story or photos of Go Boy's Sundust that you would like added to this page,
please forward them to Walkers West.

MAIN - EMAIL WALKERS WEST - STALLIONS - SALE HORSES - TACK - CYBER-BARN TOUR
OFFICE - COLT COLLEGE - BREEDING CONTRACT -
CLIENT COMMENTS - CONTACT
THE ANCESTOR GALLERY -
Tennessee Walking Horse National Museum - Pj Wamble Gallery
TWHBEA COLOR CODES -COLOR CHART - LEGENDS - FOUNDATION BOOK - BREED HISTORY - WORLD CHAMPIONS
GHOST HORSES
- LINKS - BANNERS - RINGS - GUEST BOOK - PHOTO ALBUM
GLOBAL TIME CLOCKS - THE LIBRARY -
PUZZLES - 2017 WALKERS WEST CALENDAR

Walkers West
3236 FM 2578
Kaufman, TX. 75142
Cell (214) 507-6032
Email: walkersw@earthlink.net


We can ship overseas.


<==

Click here for Currency Exchange Rates
COPYRIGHT NOTICE

Hosted on